Special Occasion Dresses
---
Prom Dresses
Rissy Roo's offers the most sought after prom dresses from all of the top designers including: Tiffany prom dresses, Sherri Hill prom dress designs, Jovani Prom Dresses
, Faviana prom dress styles, Flirt by Maggie Sottero prom dresses, Precious Formals prom dress styles, Sherri Hill Collection prom dresses, Scala prom dresses, Terani Couture prom dress designs, Alyce Designs prom dresses, Mori Lee prom dresses, Xtreme prom dress styles, Xcite prom dresses, Night Moves by Allure prom dresses, La Femme Prom Dresses, Evenings by Allure Prom Dresses, Panoply prom dresses, and many other top prom dress designers of 2012!
Quinceanera Dresses
The Quince Años is a glorious celebration that remains a cherished and honored
tradition. Rissy Roo's has a large selection of Quinceanera dresses that are both gorgeous and affordable. Shop Quinceanera dress styles from the Mori Lee Vizcaya collection, Tiffany Designs Quinceanera dresses, Alyce Designs Quinceanera dresses plus more special ball gowns that are perfect for this once in a lifetime occasion.
Pageant Gowns
Rissy Roo's has provided Pageant Gowns for many local and national pageants. We offer Pageant dresses and
Pageant gowns from top pageant dress designers. Shop for Pageant dresses from Tiffany Designs Pageant Dress Collection, Jovani Pageant dresses, Cassandra Stone, La Femme, Precious Formals, Mac Duggal Couture, Sherri Hill, Tony Bowls pageant gowns plus many more!
Mother of the Bride Dresses
You'll find a incredible selection of evening gowns at Rissy Roo's
for women of all ages. Rissy Roo's has recently added an expanded collection of dresses designed with the Mother of the Bride or Mother of the Groom in mind. Whether you are the Mother of the Bride, Mother of the Groom, or guest of the affair you'll find the perfect dress at Rissy Roo's. Shop from Scala Mother of the Bride Dresses, Atelier Alyce Signature Collection Gowns, Jovani Evening Gowns, Jovani Evening Couture Mother of the Wedding Gowns, Alyce Designs JDL Boutique Gowns plus more!
Shop Mother of the Bride Dresses Now!
Bat Mitzvah Dresses
Rissy Roo's offers a fabulous selection of dresses and suits for Bat Mitzvah girls.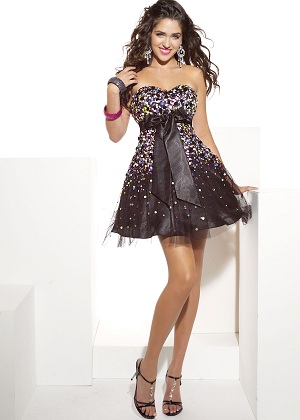 Whether it is your special day or you are attending a friends Bat Mitzvah celebration, Rissy Roo's can help you find the perfect attire. We carry dresses for black-tie Bat Mitzvah parties and Day Dresses that are perfect for a Bat Mitzvah day brunch. Bat Mitzvah girls love to shop from our collection of Sticks & Stones by Mori Lee for Madeline Gardner, Hannah S. short dresses, Sherri Hill Dresses, and Faviana Dresses!
Homecoming Dresses
Rissy Roo's is now featuring Homecoming Dresses and Homecoing Gowns for
Homecoming. Our homecoming dresses are available in many colors, sizes, and styles. Whether your homecoming dress is going to be short or long, Rissy Roo's has what you are looking for! With a large selection of homecoming dresses from today's top designers, including: Sticks & Stones by Mori Lee for Madeline Gardener Homecoming Dresses, Faviana Homecoming Dresses, Scala Homecoming Dresses, Tiffany Designs Homecoming Dresses, Hannah S. Homecoming Dresses, Jasz Couture Homecoming Dresses , Night Moves homecoming dresses and many more top designers of homecoming dresses. So browse our incredible collection of sexy homecoming dresses, plus size homecoming dresses, elegant homecoming dresses, and formal homecoming gowns and find the homecoming dress that is perfect for you. Stylish Homecoming Dresses in sizes 0-32W available.
No matter what Special Occasion you have the fabulous opportunity to attend Rissy Roo's has just the right dress for you. Choose from short sassy cocktail dresses, elegant and sophisticated evening gowns, chic designer dresses, sparkling beaded gowns, bubble dresses, or any other dress style that you can imagine. Shop from all the top dress designers. The dresses at Rissy Roo's are updated daily with new dress styles. Start shopping now! If you have any questions a Rissy Roo's sales representative will be more than happy to assist you in finding the right dress, checking stock availability, or placing your order.
Life's A Party… Dress Up!