Short Dresses for Any Occasion
Short dresses are hotter than ever. Here you'll find a huge selection of cocktail-length dresses that will suit your every need, from cute and ruffled to sassy and sexy.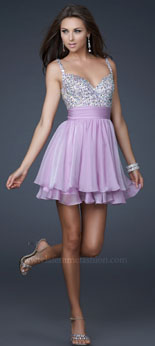 We have the largest selection of short dresses available on the internet as well as a Low Price Guarantee. Find all of today's hottest designers and their latest lines including Jovani, Panoply, Scala, Faviana, Sherri Hill, Terani Couture, and more right here at Rissy Roo's.

Short Dresses for all occasions... Is conventional attire not quite what you're looking for? Short dresses are no longer just for cocktail parties and cruise ships. In a world once dominated by long formal dresses, many of the trendiest young divas have opted for head-turning short dresses for special events such as prom and homecoming. Below-the-knee tulle dresses, posh circle skirts, and ruffled mini confections have become more and more popular. Many of today's top designers have shifted their focus towards shorter styles for 2015!

Jovani
Jovani is a fashion house for women of all ages and offers some of the most unique, elegant, sexy, and timeless short dresses available today! Jovani is thoroughly modern in its perspective and reflects the modern fashion world's love of color, fine fabrics, and cutting-edge designs. Their brand speaks not only to the young but also to the young at heart. Wear a number from Jovani's 2015 spring collection and you're sure to be the sassiest party girl in town.
Shop Jovani Short Dresses Now!

Faviana
Faviana is one of the leading designers and producers of stylish, sophisticated evening gowns in the world. Faviana is renowned for its innovative style, quality workmanship, and exceptional fit. There pieces exemplify a meticulous attention to detail, including legendary beadwork, jewelry detail, sequins, and embroidery. Cocktail-length Faviana dresses typically retail for $120 to $500, so it's a "dream-come-true" for any woman...of any age or size...who wants to feel like a diva-for-a-day! Faviana's most popular shorter styles come in some very unique and up-to-date colors including "citrus" shades like lemon, lime, and orange fire. Faviana's sizes range from 0 to 24 and their plus-size dresses range from 14W to 24W.
Shop Faviana Short Dresses Now!

Sherri Hill
Sherri Hill cocktail dresses run the gamut from highly sophisticated to flirty and fun. See their latest lines for lots of eye-catching surprises, including short and sassy styles with totally feminine beads and embellishments, feathers, and flourishes. This is the collection that is designed with high drama in mind...for all of your electric evenings!
Shop Sherri Hill Dresses Now

Scala
For over 25 years, Scala has offered industry-leading style and value in contemporary evening attire. Elegant cocktail dresses combining modern fashion, superior quality, and extremely sharp pricing have kept Scala among the leaders in the industry for the past two decades. Scala has developed a presence in 37 countries including USA, Mexico, Brazil, Japan, and Canada.
Shop Scala Short Dresses Now!

Alyce Designs
Feel like a star in glamorous, red carpet-inspired pieces from Alyce Designs. Alyce Designs' short dresses feature styles from sweet and modest to flashy and sexy. Figure flattering strapless A-line styles from Alyce Designs look great on everyone. Daring V-neck and mermaid styles give you a sexy edge for your special occasion!
Shop Alyce Designs Short Dresses Now!

Need help choosing a dress? Excellent Customer Service ... Rissy Roo's savvy salesgirls are always happy to help you find the perfect short dress for any occasion. If you have any questions while shopping our dresses, don't hesitate to call us at (866) RSY-ROOS (779-7667). You may also email us at any time at info@rissyroos.com to ask questions or to check inventory. Rissy Roo's Customer Service can even help you to choose jewelry, handbags, and the perfect shoes to complete your formal look.

Click Here to Begin Your Search For the Perfect Short Dress!